Do you struggle with social media marketing because you don't know what to say, where to post, and how to promote your post?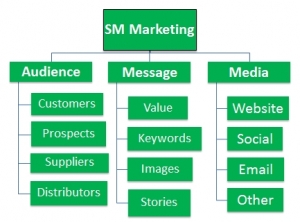 You are definitely not alone.  In fact, when I teach social media marketing to small businesses and nonprofit organizations in my local Dayton market, the majority of people have these problems.  To address this issue I have created a social media marketing model, and a tool to employe the model, that helps guide you through the marketing process.  This method has proven to be effective for increasing likes, friends, follows, links, and reposting.  It is based on the fundamentals of marketing: knowing your audience, creating a message that is interesting to the targeted audience, choosing the correct media to illustrate and distribute you message to your targeted audience, and measuring results to see if you have been successful.
Audience:
The most important factor in effective social media marketing is to identify a targeted audience that you want to reach.  This will help you define all of the other key items in your marketing campaign.  Your audience should be defined demographically, by what relationship you have or desire to have with them, where they reside on the internet and social media platforms, and most importantly what they are interested in.
Message:
Once you have a good understanding of the audience you are targeting, you need to define what result you want from your post.  Is it a sale, a new lead, an improved relationship with existing customers etc.  The first element of an effective message is to match your audience's interests with your goals.  This will help define the type of message you should use to be most effective:  1. general and primarily entertaining and interesting to create an awareness of you and your organization; 2. helpful tips or information specifically related to your business, and the type of products or services you sell; or 3. sales process oriented with a strong call to action.   In addition to your audience and campaign goals, you should consider your overall social media strategy which should have the following balance of the three post types: (1) – 50%, (2) – 30%, and (3) – 20% respectively.  Note that 80% of you social media activity should not be directly aimed at selling.  Social media is SOCIAL first and foremost.
Media:
By definition Social Media is about MEDIA.  This means that images,  graphics, video etc. are more important than words and should be carefully selected to support your message.  Even twitter has adopted to the use of visual media because it works so well.  The platform you use is also part of the media selection process since each platform has a core media that it uses, and core AUDIENCE that should match the one you are targeting.  You need to understand the type of people who are using each platform, and decide which fits the message and media you are using.  For example, Pinterest has a large female membership who expect to see visual content, even if the subject is how to strip wallpaper from the bathroom. Media also provides a great opportunity to provide entertaining content that stimualates various parts of the brain.Be sure to use keywords and hastags to broaden the reach of your post, including tagging images and videos.
Measure:
This is the most effective part of online marketing:  you can measure EVERYTHING.  And measureing a response to your post is really just listening to what your audience thought of your post:  were they moved to action, did they share it with friends, did they send a snarky reply?  Which brings me to the most important point of this article, and a marketing lesson I learned long before Social Media was even a word.  And that is it is IMPOSSIBLE to predict the results of any marketing effort. What you think may be funny or informative, may not be for your audience.  Or the audience that responded to your post may not be the one you had targeted.   So even though you did everything right creating and distributing your post, you still need to determine if you achieved your goals. For social media platforms to be successful (profitable), they have to help you be sucessful, which is they all platform have analytics.  The golden rule of social media marketing is to set specific goals for your posts and measure the results of the program against those goals.
Using this process builds the foundation for your marketing success.  You can download a template that I created to help you execute a marketing campaign by clicking Social Media Marketing Template.  To attend a social media marketing class sponsored by Dayton SCORE click here.  For more help with your social marketing campaigns contact me now.